ABOUT AEO
AEO is an original brand created by Anna Elzer Oscarson.
Exploring a rich variety of materials is Anna's specialty as she provides products for an inspiring environment; each piece crafted with love and skilled workmanship. Beautiful, inviting objects that you want to keep close to you all your life
Anna Elzer Oscarson is a graduate of HDK – School of Design and Crafts, University of Gothenburg, Sweden. After receiving her degree, she has spent most of her time as a freelance, specialising in patterns and utility goods. From 2007 to 2008, Anna was employed at the wallpaper design studio at Boråstapeter.
About DANCING DUNE
Svensk text
En dans med glasyrer. En kärlekshistoria till en förväntansfull porslinsfabrik.
Det finns en längtan efter det genuina hantverket, där man söker inspiration från förr, men gärna arbetar med nya metoder, där dynamiken mellan människor syns tydligt.
Formgivaren Anna Elzer Oscarson har skapat en ny serietillverkad kollektion keramik, handens verk i symbios modern 3D-design. Det är en komplicerad process som har resulterat i nya former. Tillverkade i Porslinsfabriken i Lidköping, en nyvaknad och optimistisk fabrik. Gjutna produkter skapar perfektion. De enastående glasyrerna gör dem levande. Dancing Dune är född.
Tillsammans med bland annat några av världens främsta glasyrmakare Kent Eriksson och Hans Olof Nilsson förvaltar Anna Elzer Oscarson en genuin skandinavisk tradition. Urformer och samtidsformer i symbios. Där de olika formerna får liv med ett brett spektra av glasyrer.
Hon har tidigare arbetat med Porslinsfabriken i Lidköping med serien Dusty Diamonds men ville fördjupa samarbetet. Dels för att stretcha sina kunskaper inom formgivning och ny teknik, men också ta tillvara den unika kunskapen om glasyrer och keramikens väsen som fortfarande finns kvar.
Anna Elzer Oscarson förklarar: "Vi efterliknar inte gods som är drejat eller skulpterat för hand, istället drar vi nytta av den perfektion som 3D-tekniken tillsammans med gjuten tillverkningsteknik kan uppnå".
Det är en kärlekshistoria till keramik och design med grunden i svensk historia. Resultatet är svensktillverkat porslin, ett folkets konsthantverk som kan förgylla människors hem och vardag. Som återskapar en industritradition när Rörstrand tog världen med storm. Modernare vardagsvara, som vill göra ett tydligt avtryck i samtidens formvärld.
English text
There is a longing for genuine craftsmanship, where inspiration is drawn from the past, yet ideally working with new methods, with the dynamism between individuals clearly visible.
Swedish designer Anna Elzer Oscarson has created a new, batch-produced ceramic collection, manual dexterity in symbiosis with modern 3D design. This is a complicated process, which has resulted in new forms. Manufactured at Porslinsfabriken i Lidköping, a renascent, optimistic factory. Cast products create perfection. The outstanding glazes bring them to life. Dancing Dune is born.
Together with, among others, some of the world's most prominent glaze makers, Kent Eriksson and Hans Olof Nilsson, Anna Elzer Oscarson is nurturing a genuine Scandinavian tradition. Ancient and contemporary forms in symbiosis. Where the different forms come alive with a wide range of glazes.
She has previously worked with Porslinsfabriken i Lidköping on her Dusty Diamonds collection, but wanted to extend the collaboration. Not only to stretch her skills in the areas of design and new technology, but also to make use of the unique knowledge of glazing and the essence of ceramics that still remains.
Anna Elzer Oscarson explains: "We aren't imitating pieces that have been turned or sculpted by hand, instead we're benefiting from the perfection that 3D technology combined with cast manufacturing technology can achieve."
This is a love story for ceramics and design with its origins in Swedish history. The outcome is porcelain made in Sweden, an example of local handicraft to brighten people's homes and everyday lives. Recreating an industrial tradition when Rörstrand took the world by storm. A more modern everyday product that aims to make a distinct impression on the contemporary world of design.
Sample design work: 
The wallpaper LUST was created in connection with Anna's graduate thesis at HDK, where the theme was to explore if a designer can base their work on emotional needs. The need for playfulness and security in a committed relationship resulted in this wallpaper, with its lush theme of flowers and semi-hidden images of lovemaking was meant to evoke love, desire and communication.
The collection MEMORIES BY ANNA, for Boråstapeter.
SCHOLARSHIPS / AWARDS: Orrefors working grant, Slöjdföreningen Scholarship, Elle Interior Design Award
REPRESENTED AT: The Röhsska museum and Nordiska museet

photo Lisa Carlsson
About Dusty Diamonds
My Dusty Diamonds collection evolved in close collaboration with Porslinsfabriken in Lidköping, a factory once used by the fine porcelain manufacturers Rörstrand. The process grew into an exciting encounter between new techniques and time-honoured tradition, a dialogue between the designer and the ceramists. Together, we carefully selected the ultimate techniques, materials, glazes, and colours to find the ideal expression for the lines of the design, its composition and faceting.
Being granted the opportunity to work alongside some of Sweden's most skilled craftsmen made realizing these pieces possible and the process had the extra benefit of passing on traditions and know-how.
"The reliefs were my point of departure. The whole concept involved integrating patterns and the three-dimensional shape. The result was facetted pieces with several dimensions. Pieces that draw you in and make you want to touch them. Which should give the products a long life." Anna Elzer Oscarson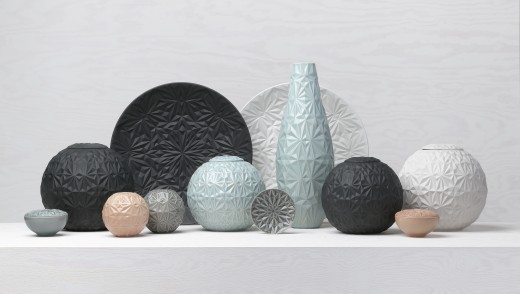 photo: elstudio
Comments about Dusty Diamonds
Anna Elzer Oscarson made a splash at the latest Furniture Fair with her "Dusty Diamonds", a collection of handmade ceramics with a modern expression. These pieces are very much "now", both with regard to aesthethics and materials. She combines traditional techniques with a contemporary flair –  fusing the best of  both worlds. – Sandra Nolgren
What inspires Anna Elzer Oscarson?
I seek a certain balance between being grounded without ever stagnating. I'm not into owning a lot of "stuff", but I do believe in beauty and quality. Attractive and functional surroundings are a real energy boost. We're affected by our environment much more than we know. Surrounding ourselves with beautiful and significant items charges our batteries. I thrive on challenge. Not that I don't need some peace and quiet, too, but my full potential comes to the fore when life is dynamic.